Home
> Patient Services
Patient Services
Catonsville Dentistry Services - Expert Family Care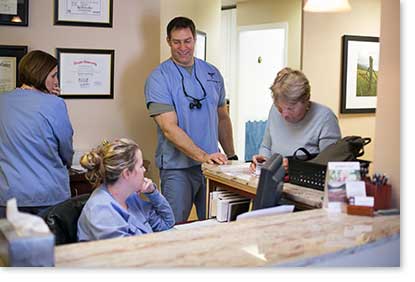 If you're looking for thoroughness and expertise in your dentist, look no further than Dr. Michael L. Schwartz. He has the experience to care for you and your family, renew your smile's brilliance, restore a worn or broken smile, or even create a new one with dental implants. All this is accomplished through Dr. Schwartz's precision with essential technologies and state-of-the-art procedures.
Our unique office will provide you with a cozy, inviting atmosphere and an attentive staff of professionals ready to serve you. From your first exam to follow-up dental visits, Dr. Schwartz and our team will guide you every step of the way. Whether you want dental care for your children or oral surgery for yourself, we're here to take smiles to the next level.
Become a part of our family. Call our dental office today to schedule your appointment with Dr. Schwartz. You'll soon discover that dental care can be rewarding, relaxing, and even fun! Our office serves Catonsville, Baltimore, Ellicott City, and the surrounding areas with personalized service and quality care.
---