Home
>
Patient Services
> Implant Dentistry
Implant Dentistry
Catonsville Dentist Michael Schwartz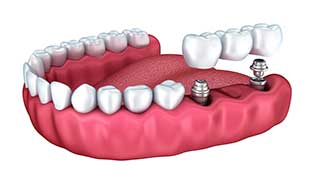 A missing tooth, or a few missing teeth, don't have to end your social life, compromise your diet, and make you uncomfortable about your appearance. If you're longing to eat, speak, and smile with a full smile, ask Dr. Schwartz about implant dentistry. As a graduate of the Misch Institute of Implantology, he can expertly place strong, natural-looking dental implants to complete your smile. Dr. Schwartz offers many styles and brands of dental implants. He'll assess your unique situation, then advise you of your options.
If you have good oral health and adequate jawbone density, you may be a good candidate for dental implants. However, if dental problems stand in the way of receiving implants, Dr. Schwartz may recommend restorative procedures to increase your potential for successful dental implant placement. By restoring good oral health, placing bone grafts to improve your jaw structure, and altering habits (like smoking), you may become a good implant candidate.
If necessary, Dr. Schwartz may work with an oral surgeon. The specialist will place your implant(s), then Dr. Schwartz will design a restoration, a single tooth or a multiple-tooth prosthetic, to place atop your implant post(s). Once your implant procedure is complete, you'll reap the benefits immediately.
Become a part of our family. To learn more about dental implants, call our dental office today to schedule an appointment with Dr. Schwartz. You'll soon discover that dental care can be rewarding, relaxing, and even fun! Our office serves Catonsville, Baltimore, Ellicott City, and the surrounding areas with personalized service and quality care.