Home
> Contact Us
Contact Our Catonsville Dental Office
We Want to Hear From You!
Dr. Michael L. Schwartz
1009 Frederick Rd.
Catonsville, Maryland 21228
Phone: 410-744-4444
Email Us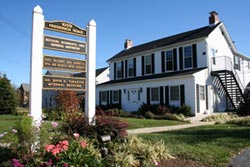 Office Hours
Monday and Tuesday: 7:00a.m. - 5:30p.m.
Wednesday and Thursday: 7:00a.m. - 4:00p.m.
Emergency Care
We do our best to see emergency patients immediately, even first-time patients. As a service to our patients of record, Dr. Schwartz is on call 24/7 for any dental emergencies. Call our main line after hours for assistance.
Maps and Directions
Our practice is located on Frederick Rd., off Baltimore Beltway (I-695) (Exit 13). We're located just one mile west on Frederick Rd. Ample parking is available in our parking lot behind the building.