Home
>
Patient Services
>
Cosmetic Dentistry
> Teeth Whitening
Teeth Whitening
Michael Schwartz, Catonsville Dentist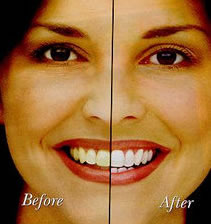 You may feel that stains and discoloration on your teeth are problems out of your control. With professional-grade, take-home teeth whitening, your drab smile will be history. Make a bold statement; turn back the clock! Treat yourself to a smile that lights up the room.
With the take-home teeth whitening system, we'll give you a set of custom-made mouth trays that will hold potent bleaching gel against your tooth enamel. Wear the aligners for the prescribed time each day (usually 30 minutes to two hours). You'll see results almost immediately, but the real results that dazzle will show up after a couple of weeks. That's all there is to it!
Become a part of our family. Call our dental office today to schedule a teeth whitening appointment with Dr. Schwartz. You'll soon discover that dental care can be rewarding, relaxing, and even fun! Our office serves Catonsville, Baltimore, Ellicott City, and the surrounding areas with personalized service and quality care.