Home
>
News
> Fellow, Academy of General Dentistry
Fellow, Academy of General Dentistry
Dr. Schwartz becomes a Fellow of the Academy of General Dentistry.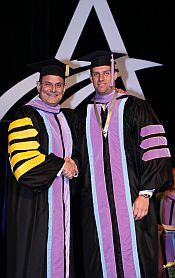 What is the Academy of General Dentistry?

The AGD is a professional international organization with over 35,000 member dentists from the United States and Canada. It was founded in1952. The AGD strives to provide the best possible patient care through it's dedication to the continuing dental education of it's members. In addition, it provides the public with information to help make informed choices about personal dental care and treatments.

What does the Fellowship award mean?

This means that Dr. Schwartz cares about long-term dental health for you and your family, and demonstrates that concern by pursuing additional designations. A general dentist who is a "Fellow" in the Academy of General Dentistry (FAGD) has been recognized by other general dentists as a leader and exemplifies to other dentists the importance of quality continuing dental education. To earn his FAGD, Dr. Schwartz has completed a total of over 500 continuing education credit hours, passed a comprehensive exam, and has been an AGD member for over 3 years. The ceremony took place during the Academy of General Dentistry's annual convocation of 2010 in New Orleans. As a recipient of this award, Dr. Schwartz joins more than 6,600 AGD members who understand that providing great smiles and good oral health for their patients are the result of going above and beyond the basic requirements.
Catonsville Dental News